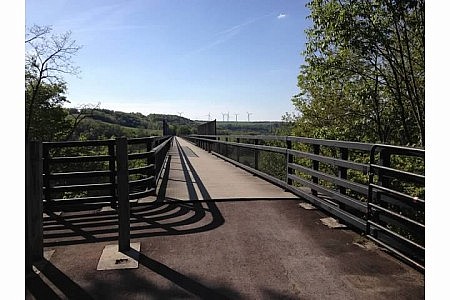 This race will not take place in 2023 due to Altis Endurance Sports Frank and Mike working lots of hours at our full time jobs. Our work situations are expected to change in 2023 so that this race can take place as planned in 2024.
Both the marathon and half marathon start at 8:00AM. This event will take place in its entirety in Pennsylvania on the outstanding Great Allegheny Passage. Runners will cross three trestles on the course – to include the 1908 foot long Salisbury Viaduct (pictured above) over the Casselman River Valley, the 910 foot long Keystone Viaduct, and the historic Wills Creek Bollman Truss Bridge. The race start/finish is on the Great Allegheny Passage near the Western Maryland Railway Station at 529 Main Street Meyersdale, PA 15552.
This race will be the third event in the 2022 Mid-Atlantic Marathon and Half Marathon Series taking place from September 28-October 2. The other events in the Series are the GAP Marathon and Half, the inaugural Eastern Continental Divide Marathon and Half, the Salisbury Viaduct Marathon and Half, and the Hancock Marathon and Half. In order, the series races take place in MD, PA, PA, PA, and MD. Run one, some, or all these great trail races!
"This is a wonderful series of friendly races with tremendous organization in beautiful locations that runners need to experience."
Steve Hughes,
Marathon Maniacs Hall of Fame