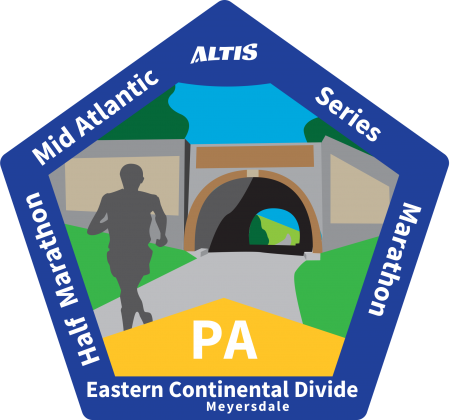 The 2020 Eastern Continental Divide Marathon and Half Marathon was cancelled due to COVID-19. There will not be an Altis race series in 2021 or 2022 and the fate of this race is uncertain.
Both the marathon and half marathon will start at 8:00AM. This event takes place in its entirety in Pennsylvania on the outstanding Great Allegheny Passage (GAP). The primary highlights of the course include crossing the Eastern Continental Divide and a view of the north end of the 3294 foot long Big Savage Tunnel. The eastern end of the course is just a few feet from the tunnel entrance tunnel. The race course does not enter the tunnel. Marathoners and halfers will run a slightly different course which allows the marathoners to run across the scenic 910 foot long Keystone Viaduct twice.
This race is the second event in the 2022 Mid-Atlantic Marathon and Half Marathon Series taking place from September 28-October 2. The other events in the Series are the GAP Marathon and Half, the GAP Trestles Marathon and Half, the Salisbury Viaduct Marathon and Half, and the Hancock Marathon and Half. In order, the series races take place in MD, PA, PA, PA, and MD. Run one, some, or all these great trail races!