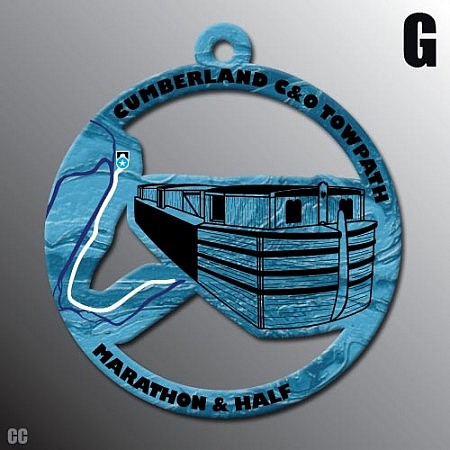 The 2017 marathon results are posted here, and the 2017 half marathon results are posted here.
This "race on the Towpath" has used 3.28 miles of the Towpath the past three years as the race course. Altis desires to improve this race by using 6.56 miles of the Towpath for the course instead of 3.28 miles. There appears to be a nice 6.56 mile section of the Towpath that would be well suited to replace this race in the Hancock/Hagerstown area. Updates will be provided on this potential "course relocation" when appropriate.
The third annual race is set for Sunday September 24, 2017 at Cumberland, MD. This race will be the fifth and final event in the 2017 Mid-Atlantic Marathon and Half Marathon Series. The other events in the Series are the Brush Tunnel Marathon and Half, the GAP Marathon and Half, the GAP Trestles Marathon and Half, and the Barnum Rail Trail Marathon and Half. In order, the series races take place in MD, MD, PA, WV, and MD.
The race start/finish is located on the C&O Canal Towpath at the Canal Place located at 13 Canal Street Cumberland, MD 21502. The marathon starts at 7:30AM and the half marathon starts at 8:00AM.
The Cumberland C&O Towpath Marathon and Half Marathon is a Trail Runner Magazine 2017 Trophy Series event. To learn more about the Trophy Series click here or navigate over to trailrunnermag.com.
"This is a wonderful series of friendly races with tremendous organization in beautiful locations that runners need to experience."
Steve Hughes,
Marathon Maniacs Hall of Fame